June 15, 2020 — shinohai
Here are a few interesting items occurring in the United Socialist States of America this week.
Shithub announced they will be replacing the word "Master" as the name of the default branch name which they hope will help by "removing racially-charged language"1 from the open-sores platform. Github/Microshit "developer" Johannes Schindelin was quoted in the issue comments saying he was prepared to bow to his BLMasters:
"At this point, I don't think it matters what the intention behind the word is. It incites emotional distress. So we should move away from it."
Other useless "software developers" following suit include OpenSSL, Curl, and Powershell. (archived)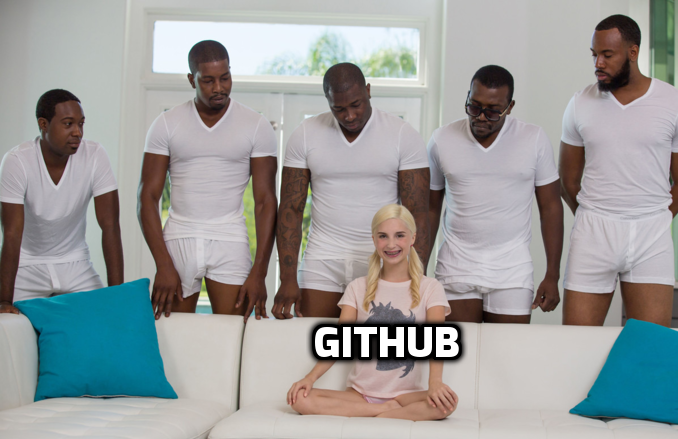 The Supreme Court ruled Monday afternoon that if you have employees that cosplay furries or someone of the opposite gender that you are stuck with them for the foreseeable future, so expect offense from the masses.
The Republic of Veganzuela inside Seattle is entering it's second week, even as US President Donald Trump threatened to https://archive.is/W984k restore "law and order" by dismantling the area surrendered by Seattle police. A white flag was not used in the surrender so as not to incite racial tensions.
Persons armed with AR-15's helpfully collect the $10 for black people tax upon entry.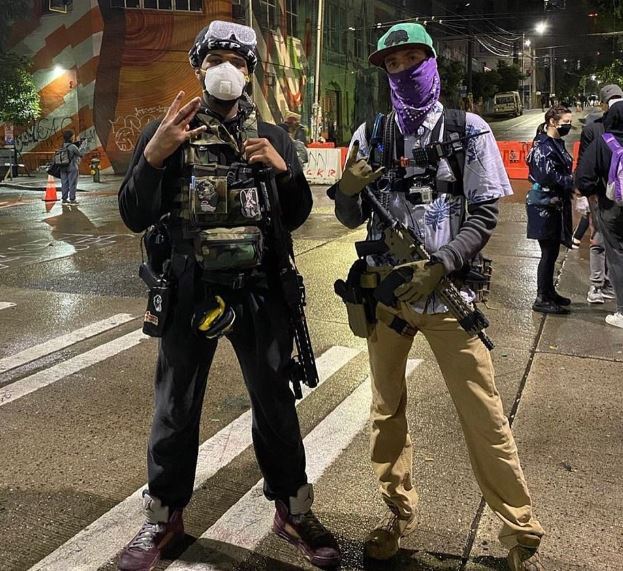 Once inside, visitors are treated to sights such as lush gardens and the luxury accommodations that dot the landscape of this idyllic socialist paradise.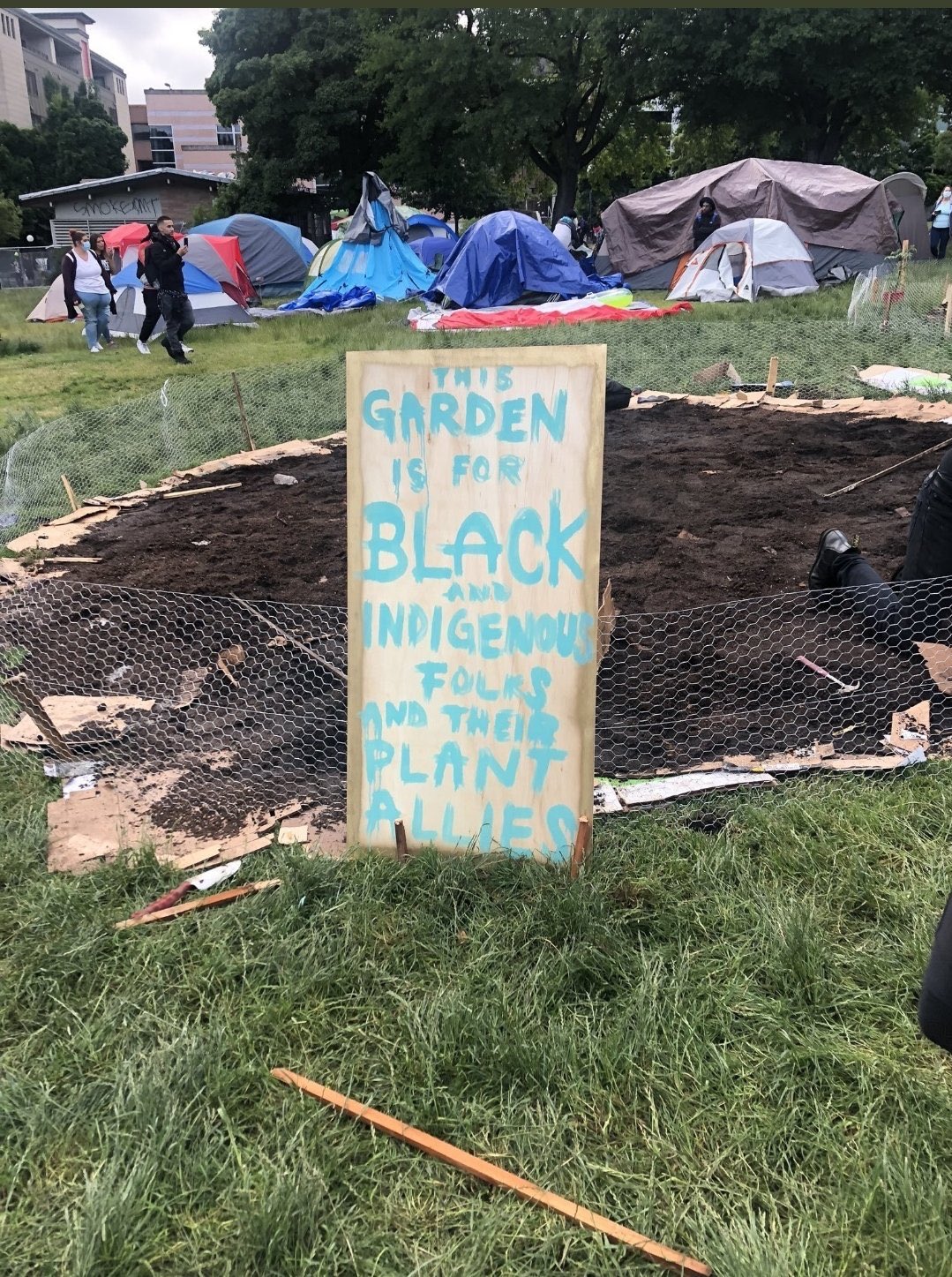 A separate piece will document any further activity in and around the Veganzuelan border.
August 14, 2019 — shinohai
Sometime around the exit of Bryce Weiner, the Unobtanium project acquired a new "developer" who goes by the moniker of soopy452000. Let's examine a few alarm bells on why you shouldn't let this guy anywhere near you coin, or anything to do with mission-critical code for that matter, and put this conversation to bed.
Love 'em and leave 'em. Señor soopy has a reputation of inserting himself into cryptocoin communities, making questionable code changes, and absconding with funds. Good 'ol Bitcointalk registers a complaint from a user who testifies he sold 3 billion Beecoin for LTC, left the community hanging, and moved on to Navcoin. (archived)

anotherlateminer:
"Read 2 pages from here: https://bitcointalk.org/index.php?topic=601247.msg8923728#msg8923728
BEEs have been sold in order to be used for development and there are still no signs 
of any development. LTC are just gone."

Telegram chats have provided a few gems as well:
A kind stranger comes to the main channel to warn what UNO might be getting into. (archived)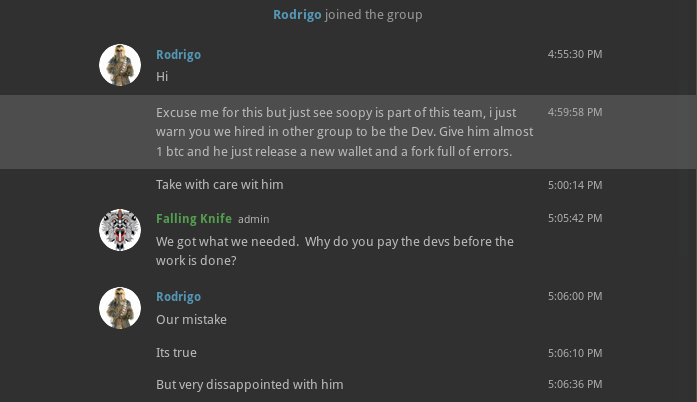 It didn't take long for teh lulz to manifest:
Readers of this blog already know about the war on cryptography from various "nation-states", and why you should be very careful of what tools you use when working with these items. Soopy exhibits very amateur behavior when dealing with such, from generating keys using keybase.io1 (archived), to posting unusable signed walls of text to Telegram chats that can't be verified.
Yes, this has predictable results, and clowns in this camp will likely come up with the same tired excuses to explain it. (archived)
Socialisms, like zooko.usg "dev subsidies" have no place in cryptocurrency. But that doesn't stop picadors trained in the Democratic Socialist Republic of Sri Lanka from trying to print unlimited money, and hoping no one notices, as was the case with 42coin:
"What is remarkable in the history of 42, is that until the spring of 2014 the coin supply was really capped at 42, but on March 17, 2014, the GitHub user sherlockcoin (aka soopy452000) made it unlimited. He was working under KGW implementation and no one noticed this "small change"." (archived)
So there you have it folks, and the above-stated reasons are just a few examples of why I won't be trusting any code pushed by this moron to the "official" Github2, and neither should you. But, Caveat Emptor, do your own research, and decide for yourself.
May 30, 2019 — shinohai
Telegram never fails to produce lulz, and an endless stream of scammers that scout cryptocurrency channels for marks. Since I'm an admin in the Unobtanium channel, I get plenty of unsolicited messages from institutional investors and princes from Monaco that wish me to part with my precious UNO. To wit: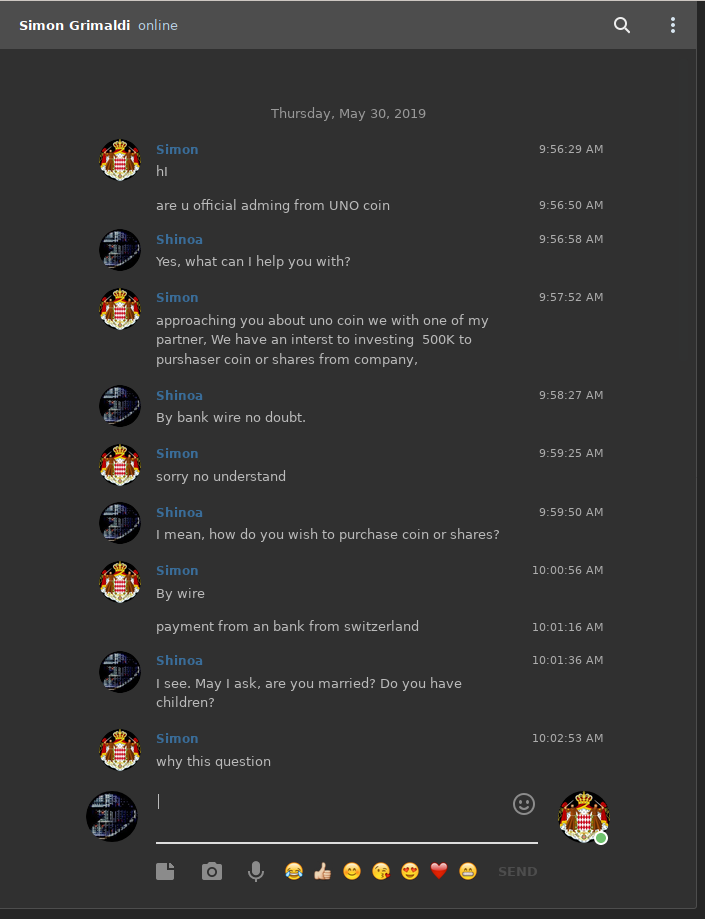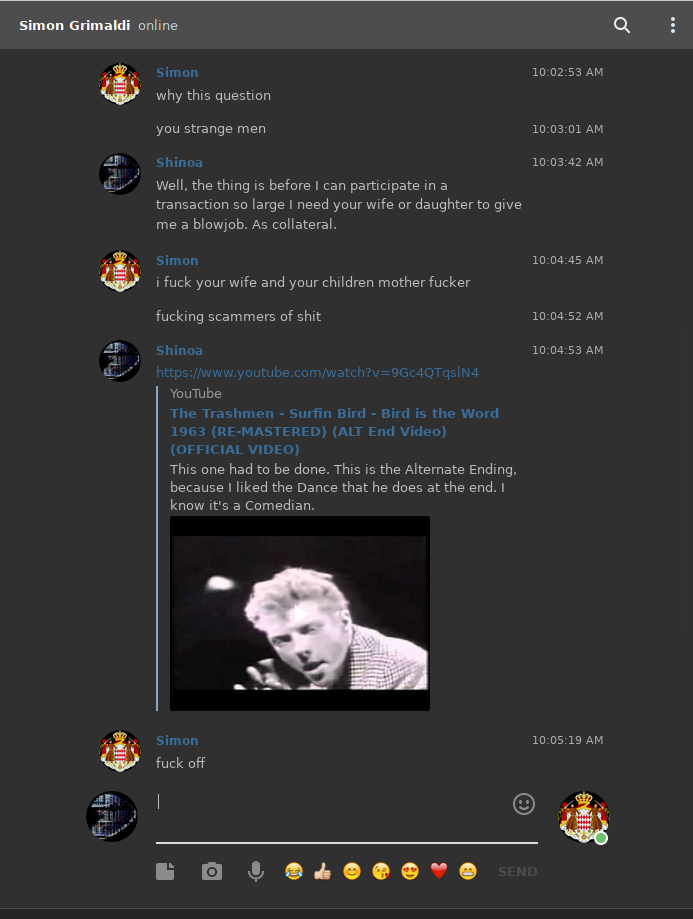 Scammers suddenly get all moral when you discuss sexual acts with them. This guy supposed that blackmailing me by threatening to inform the other admins what I was up to was the solution. Fortunately, the other team members are well aware I'm a degenerate that uses unconventional methods.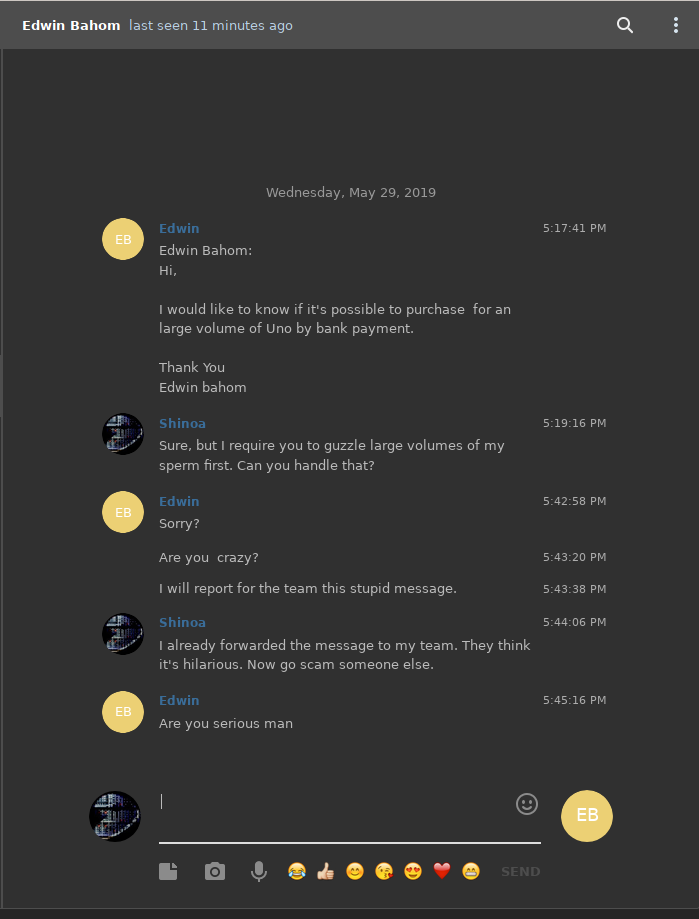 This is, of course, just a sampling of the countless messages I have received. I imagined that I might end up on some sort of scammer "do not contact" list, but since Nigeria alone has a population of roughly 191 Million, it might take some time.
Bring it on.
Tags: Bitcoin, Cryptocurrency, Lulz, Scams
December 25, 2018 — shinohai
Rumors swirling on "executive social media" site LinkedIn hint that mining conglomerate Bitmain is slashing the size of it's workforce by 50%, most of the affected employees being part of a BTrash wallet development team calling itself "Copernicus". The company famously concentrated a large amount of resources towards supporting Roger Ver and mining the Bcash fork of Bitcoin, and are now experiencing the SFYL that naturally occurs when people chase scamcoins. (archived)
Tags: News, Bitcoin, Cryptocurrency, Scams
December 20, 2018 — shinohai
Buterin finally gives away some $300K USD worth of ETH as he exits school to focus on breathing new life into the mETH industry. Diploma mill University of Basel recently awarded Butern an honorary doctorate, presumably for his work in quantum computing schemes and building a product that consistently loses user funds.
Tags: News, Bitcoin, Cryptocurrency, Scams
December 14, 2018 — shinohai
Bitcoin Cash (a.k.a BCash, Btrash) saw prices fall to a record low of $82 USD across exchanges today, representing a 98% decline from the all time high. BCash has suffered rekt syndrome since "Hoaxtoshi" Craig Wright decided to split to his own chain, known as "Bitcoin SV", a few short weeks ago. Price for this fork of the fork of Bitcoin still sits below BCH, at $74.50. coin.dance reports just slightly over 1,000 Bitcoin ABC nodes in operation at the time of this article.
Tags: News, Bitcoin, Cryptocurrency, Scams
December 12, 2018 — shinohai
Prosecutors in Tokyo's District Court recommended a 10-year prison sentence for former MtGOX CEO Mark Karpeles in their closing arguments today, asserting that he "betrayed his clients and used a huge amount of their money" and constructed a flimsy excuse to cover it all up. MtGOX was formerly the largest Bitcoin exchange in the world, but went bankrupt in 2014 after around $423 million USD worth of Bitcoin and fiat went missing. Karpeles claimed "LOL, we wuz haxed" and that the money discrepancies were personal loans, though prosecutors allege no documentation exists to support his version of events. (archived)
December 06, 2018 — shinohai
Alexander Vinnik, operator of defunct (though recently operating as wex.nz) cryptocurrency exchange btc-e had all charges against him dropped in a Cyprian court. The plaintiffs withdrew all charges of "fraud, money-laundering, and other grave crimes" according to a statement by Mr. Vinnik's attorney. (archived)
Tags: News, Bitcoin, Cryptocurrency, Scams
December 05, 2018 — shinohai
Zany Zooko gets his turd listed on Conbase. Within hours, ZEC is dumped. Lulz were had.
Tags: News, Cryptocurrency, Scams, Lulz
December 05, 2018 — shinohai
Serial scammer "Bitcoin Tre" announced on twitter that he would consume his canine companion's shit if the USD price of Bitcoin isn't $10 by January 1rst of 2020. Trevon James is well known for peddling Bitconnect jenkem for r/edditards to huff, and was named in a class action lawsuit by Bitconnect losers in September of this year. Mr. James is the second individual this year that has proffered to eat unusual items, with John McAfee taking the lead by offering to eat his own dick on live national television.
Tags: News, Bitcoin, Cryptocurrency, Scams
November 29, 2018 — shinohai
Residents of Manila may soon be "compensated" with mETH tokens in exchange for spending a few hours cleaning up trash on beaches in the capital city. ConsenSys, billed as the largest development firm on the flaming-tire-in-a-shitpit that is Ethereum, hopes to kickstart their Bounties Network dApp by appealing to uneducated 3rd-world users who might be tricked into believing that the tokens they receive have any value. Participants in this scheme with any intelligence at all will hopefully immediately swap any ETH received for actual Bitcoin on their preferred cryptocurrency exchange. (archived)
Tags: News, Bitcoin, Cryptocurrency, Scams
November 13, 2018 — shinohai
Unknown individuals gained access to the official Target twitter account earlier today and attempted to promote a 5000 BTC giveaway scam. The tweet posted by the hacker(s), now deleted, asked users to send small amounts of Bitcoin to an address in order to participate in a chance to win the Bitcoin prize, which is worth around $30 Million USD at the time of writing. The incident is another example of the poor security used by the twitter platform and its unwillingness to stop the proliferation of scams that usually target "verified" accounts.
Tags: News, Bitcoin, Scams, Webshit
October 05, 2018 — shinohai
mETHereum founder Vitalik Butterin admitted in a recent tweet that he is "really proud" that his 70% premine scamcoin has been so much more successful than his quantum computer scam.
Vitalik was quoted as saying during the initial offering that "We accept only bitcoin with no refunds for our premined ETH" a.k.a. "Fuck you, got mine".
Tags: News, Bitcoin, Cryptocurrency, Scams
September 14, 2018 — shinohai
Mixxchain, where "Privacy Meets Scalability" has announced that as soon as they return from their roadshow and come up with some new buzzwords to inject into their website, will be taking applications for node operators on their vapourware network.
What are these innovative privacy features? Why KYC checks of course!
The founder of this flaming-tire-in-a-shitpit is David Chaum, whom the "team" section of the Mixxchain website claims is "widely recognized as the inventor of digital cash".
Tags: News, Cryptocurrency, Lulz, Scams
August 19, 2018 — shinohai
Craig "Hoaxtoshi" Wright announced plans to release a competing version of the BTrash implementation which he calls "Bitcoin SV" that will "provide a clear BCH implementation choice for miners who support Bitcoin's original vision". The new version - the really, real version of Bitcoin this time - will have support for 128MB blocks, despite the fact that the most blocks are less than 100KB, or 0.00333333333% of the current 32MB limit. The announcement comes in the midst of a time of increasing tensions between Hoaxtoshi and the "Bitcoin ABC" (BTrash) developers, who want to add new OP codes that Wright says will encourage illegal gambling and other things he can't patent or control. (archived)
Tags: News, Bitcoin, Cryptocurrency, Scams
June 17, 2018 — shinohai
A report from Business Insider indicates that sales of collectible "CryptoKitties" on the mEthereum database are rapidly plummeting. The startup was given $12 Million USD from "Venture Capitalists" that apparently wanted to see just how much money idiots would flush down the toilet while under the influence of feline jenkem. One of the founders of CryptoKitties says the slowdown is caused by users making more "thoughtful transactions" due to the increasing costs of transacting on the mEthereum network, a side effect that occurs when one writes contracts with the ability to launch a Denial of Service attack on itself just for lulz.
Tags: News, Bitcoin, Cryptocurrency, Lulz, Scams
May 18, 2018 — shinohai
Fake news outlet CoinGeek is reportedly now offering to sell citizenship in the beautiful 3rd-world tax haven of Antigua. Benefits are rumored to include not owning any actual bitcoin, and being forced to transact in fiatist darling Bcash1 instead. Coin Geek is owned by serial scammer and liar Calvin Ayre who is notorious for working closely with hoaxtoshi Craig Wright. Source: (archived)